White-sand beaches, dramatic cliffs, delectable regional cuisines, vibrant culture, and heritage are only some of the things that make Greece an exciting destination for tourists. It even captivates couples who want a memorable destination wedding with their closest family and friends. If you're one of those who plan to elope in Greece, this guide is for you.
Continue reading below to find out how you can prepare for your elopement wedding in Greece, what documents you might need, what you can expect in different regions and during different seasons, and more.
What is an Elopement?
Elopement used to have a negative connotation in society. Back then, it meant a couple running away to get hitched without the parents' approval.
Today, elopement seems to have taken a completely different meaning. It's no longer associated with shame. Instead, it's about a couple wanting to skip all the unnecessary aspects of traditional weddings. Elopement is also about cutting costs significantly, as a couple only invites their closest family members and friends.
More often than not, elopement is an intimate destination wedding. Couples usually choose a venue far away from home so that they can easily follow the ceremony with their honeymoon. Young people nowadays also find it practical because it's hitting two birds with one stone— they get to travel and get married.
How to Elope in Greece?
Before anything else, you need to plan your trip, whether or not you're from Greece. Check if you need a visa and file the necessary paperwork to obtain one. The visa application could take weeks or months, so ensure you familiarize yourself with the whole process and meet all the requirements to avoid hassle or delays.
Transportation and accommodations are the next things you need to plan. Whether you're traveling by land, sea, or air, book your tickets as early as possible. The same goes for accommodations so that you can get the best deals. The earlier you book, the greater the potential discounts are. If you plan to spend your honeymoon in Greece, you might as well take that into consideration during this early stage.
When all the travel documents and bookings are set, it's time to think about the wedding itself. You have two options for the ceremony: civil and religious. Both ceremonies require at least two witnesses.
For both ceremonies, you also need a translator if neither you nor your partner speaks Greek. One of the witnesses can act as your translator if they speak the language.
Civil Wedding in Greece
For a civil wedding, you need a marriage license. Later on, we will get into the nitty-gritty details of acquiring one.
Usually, it's the Mayor of the town of your chosen venue who administers the wedding at the Town Hall or Mayor's Office. Since elopements are now typically synonymous with destination weddings, you'll likely want to get married in a different location that's romantic or serene, or both. Ensure you have the venue approved before making arrangements for the Mayor or a minister to officiate the ceremony.
Religious Wedding in Greece
If you want a religious wedding, ensure you get in touch with the clergy of your choice directly. The requirements vary per church, so it's best to ask. Nevertheless, the requirements usually include a baptismal certificate and a certificate of faith.
To get married in the Greek Orthodox Church, you and your partner should be baptized Greek Orthodox. If one of you isn't, you need a Public Notary's act stating that your children will be baptized in Greek Orthodox.
Symbolic Wedding in Greece
You could also opt for a symbolic wedding ceremony wherein you'd legally get married in your home country and conduct an intimate ceremony in Greece with the ones you love the most. This option is popular among foreigners who want to avoid all the hassle of formalities.
Same-sex marriage isn't necessarily legal in Greece, but a cohabitation agreement is available for those in the LGBTQ+ community. It doesn't matter how you and your partner identify yourselves or what faith you belong to; as long as you're two consenting adults, you can engage in a cohabitation agreement.
While a cohabitation agreement isn't the same as a marriage contract, it allows you to declare your partnership before a notary and file it with the registry office of the concerned local government unit.
If you go the cohabitation agreement route, you can celebrate your partnership with your closest family and friends through a symbolic wedding ceremony.
How much does it Cost?
Acquiring the marriage license alone costs around 320 USD (300 EUR). The cost for the whole wedding depends on many factors, including the season, venue, and the vendors you want to include.
The more small details you want to add, the more the costs balloon. That's not yet taking into consideration your airfares, accommodations, and other documentary requirements. The typical budget range is between 5,000 USD and 15,000 USD. Nevertheless, you'd get a lot with this budget because getting married in and exploring Greece is relatively cheap.
How to get a Marriage License?
You don't have to be a Greek citizen or resident to get married in Greece. However, the paperwork processing for getting legally married in the country is quite lengthy for tourists.
The following are the primary documentary requirements for getting a marriage license in Greece:
Certified copy of birth certificate
Valid passport
Official Apostille translated into Greek and certified by a lawyer, translator, or Greek consulate of your home country
Notarized proof of freedom to marry or affidavit of marriage
Decree of absolution of a previous marriage of both parties, if applicable
Copy of the local newspaper where the intent to marry was announced or statement of intent at the town hall
Once you've compiled all these documents, visit the relevant town hall to apply for a marriage license. If no issues arise, it will be released in eight days.
The license is valid for six months, so ensure you get married in Greece within the six-month period.
When to Elope in Greece?
The good thing about Greece is that it generally has lovely weather year-round. You can easily have a destination wedding at any time of the year as long as you pick the right location for the season.
Winter
If you love the cold or winter sports, you might as well get hitched in Greece during winter. January is the best time for skiing, snowboarding, and other wintertime activities.
The coastal regions experience moderate temperatures during this period but expect to experience light rains. The good thing about these places during winter is that they're less crowded.
Eloping in Greece during winter is also ideal for those on a tight budget. The rates are relatively low during this season.
Spring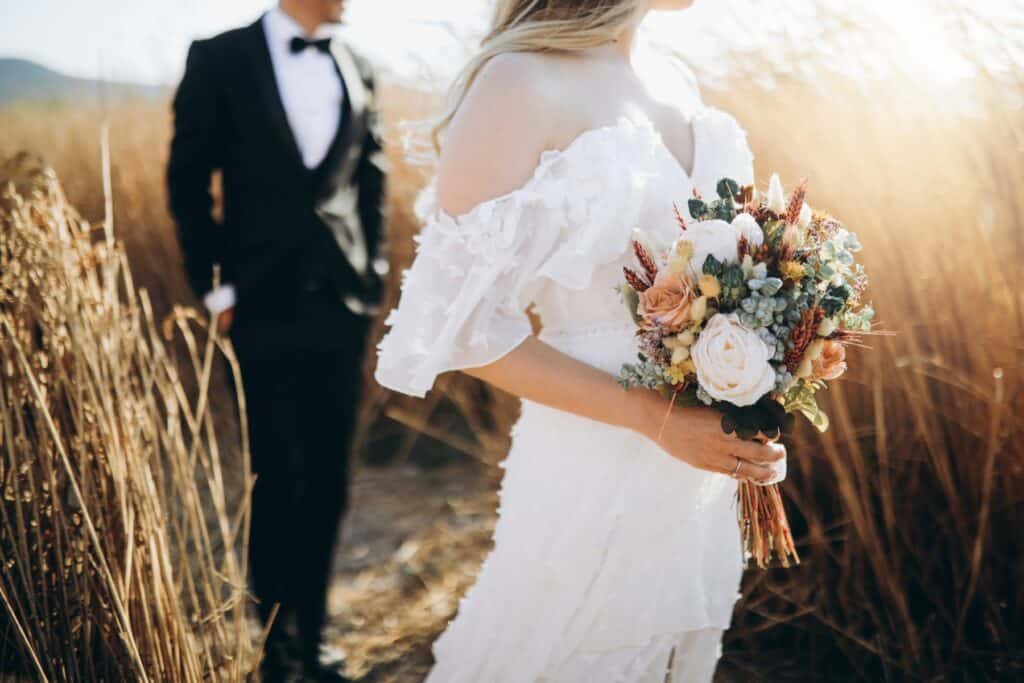 The wildflowers bloom so beautifully during spring. The weather is also the most pleasant during this time, providing the most outdoor recreation opportunities. With natural beauty at its peak, this season offers breathtaking backdrops for intimate weddings.
Summer
Having a destination wedding in Greece during summer is quite tricky. It gets uncomfortably hot, especially on the mainland. Typically, July and August are the busiest and hottest. The beaches are often packed during these months, so consider avoiding them.
If you really want to have a summer wedding, conducting it in June is highly recommended. It's already warm, but most tourists aren't around yet. September is also a great option.
Fall
Like springtime, autumn also has the best weather. It's not too warm and not too cold. The stunning shades of orange and red offer a nice contrast for your wedding photos.
Most Beautiful places to Elope in Greece
Santorini
Santorini is one of the most renowned Greek holiday destinations. You can easily recognize it by its postcard-worthy scenery of whitewashed buildings and vibrant blue hues.
You have many options for a wedding venue. You can get married in a villa surrounded by dramatic landscapes, a scenic hotel terrace, or even a lush winery.
SantoWines
If you want to get married in a winery, look no further than SantoWines. It boasts a picturesque cliffside location surrounded by volcano views. The terrace can serve as your ceremony venue and reception. To help you make your dream wedding come true, the dedicated event manager can customize the services according to your needs.
Canaves Oia Santorini
Canaves Oia Santorini has three event venues: Panorama Balcony, Veranda Balcony, and Sunset Terrace. The Sunset Terrace is the newest among the three. Suitable for elopement wedding ceremonies, it accommodates up to 25 guests.
Ceremony and reception venue rental include a maximum of five hours of Sunset Terrace use, a glass of sparkling wine for all guests, white wedding cake, basic venue setup, and event planning services. This hotel has a team of expert event planners who can help you plan every detail of your big day.
Lemnos
Lemnos is known for its volcanic rock formations, which you'd unlikely see anywhere else. These rocks are most beautiful when the sunset hues hit them in the afternoon.
This island is an ideal wedding destination because it's not as popular or crowded as most places on this list. If you want to get away from the crowd and spend your most important day with your closest loved ones, it's an excellent choice for you.
Varos Village Hotel & Residences Lemnos
Varos Village Hotel & Residences Lemnos hosts elopements and grand weddings. It has an outdoor venue that lets you enjoy the refreshing sea breeze. To celebrate your union, you can feast with your loved ones on an island-style banquet by the ocean.
Athens
If you prefer to explore mainland Greece, Athens is a good starting point. It isn't just the country's beating heart. It's also the birthplace of European civilization, so expect to see plenty of ancient ruins and historical attractions.
Four Seasons Astir Palace Hotel Athens
Offering the Aegean Sea as a backdrop, Four Seasons Astir Palace Hotel Athens is unsurprisingly a sought-after wedding venue.
When you book your wedding here, you get accommodations and tailor-made amenities on your wedding night. You also get the services of an experienced in-house wedding planner who can plan everything down to the tiniest detail with you. Moreover, wedding packages include decors, access to communal spaces as backdrops for your wedding photos, and a dedicated team for on-the-day execution.
Grand Resort Lagonissi Athens
Grand Resort Lagonissi Athens offers you a personal wedding planner who can help you turn the wedding of your dreams into reality. From floral arrangements to sounds and lights, the dedicated team got everything covered. Depending on your requests, photography, limousine, and other services may also be included.
After your wedding, you can further celebrate your union and intimacy in the Honeymoon Suite.
Saronic Islands
Saronic Islands allows you to step into serenity and away from the bustle of daily life. Since no cars roam the streets, you can enjoy the peace of strolling. You can even have a romantic carriage ride with your significant other when you head on your honeymoon.
Four Seasons Hydra
Four Seasons Hydra can take care of everything you need before, during, and after your elopement wedding in Greece. From the bridal bouquet to the wedding cake, you have nothing to worry about. Of course, photography and videography are included in the services so that you can memorialize your big day for life.
Wedding packages here may also include accommodations for you and your guests.
Hotel Leto Hydra
With a dedicated events team, Hotel Leto Hydra guarantees you hassle-free wedding preparations. It can help you make arrangements with different vendors, be it for catering, hair and makeup, decors, and more.
Ionian Islands/Heptane
Set on the west coast, the incredible Ionian Islands derive its name from the Ionian Sea. The classic architecture and medieval vibes offer a nice contrast against the breathtaking ocean scenery.
Plenty of recreational opportunities are available here, so you'll never run out of things to do after the big day.
Kos Imperial
Kos Imperial offers different wedding packages, including the budget-friendly option, Rose Garden Wedding. This package starts at 890 USD (840 EUR) and includes the following:
Your choice of onsite venue
Bridal bouquet
Groom's boutonniere
Basket of flower petals and rice
Bottle of sparkling wine and single-tier wedding cake for the toast
10 photographs ℅ the in-house photographer
Informal marriage certificate ℅ the resort
Alexandra Beach Resort & Spa
Eloping in Greece doesn't have to be a hassle, especially with Alexandra Beach Resort & Spa's experienced staff that can plan every detail of your wedding. It also has an in-house chef who can customize the catering menu for your reception based on your requests.
Elope Greece Checklist
Decide when and where precisely in Greece you want to have your wedding.
Book your airfares (if applicable) and accommodations, and make the necessary transportation arrangements as early as possible. You can also plan your honeymoon itinerary during this stage.
Look for elopement wedding packages and potential vendors, and compare rates. If you have the budget and the package or resort doesn't offer one, hire a wedding coordinator.
File the necessary paperwork. Whether you're having a civil or religious wedding or both, you need to process your documents in a timely manner.
Greece is a relatively affordable country to explore, which is why it's so famous for elopements and honeymoons. With enough research and proper planning, you won't even have to burn all your life savings to make your dream wedding come true.
It may be a lengthy process to secure a marriage license, but the spectacular views, unforgettable experience with your loved ones, and exhilarating feeling you get when you're finally saying "I do" are worth it.
---
You'll Also Like
Elope in Mexico
Elope in Iceland
---
FAQs
How do you elope in Greece?
If you want to elope in Greece, you need to decide whether you want a civil or religious wedding or both. For a civil wedding, foreigners need the following documents to obtain a marriage license:

1. Certified copy of birth certificate
2. Valid passport
3. Official Apostille translated into Greek and certified by a lawyer, translator, or Greek consulate of your home country
4. Notarized proof of freedom to marry or affidavit of marriage
5. Decree of absolution of a previous marriage of both parties, if applicable
6. Copy of the local newspaper where the intent to marry was announced or statement of intent at the town hall

Religious weddings also have certain documentary requirements but vary from church to church. Contact your church of choice to verify the whole process you need to go through to get married.

Learn more about what you need by reading our in-depth guide on Eloping in Greece.
What are the best places to elope in Greece?
Almost every corner of Greece offers a picturesque and romantic setting for a destination wedding.

Santorini is one of the best locations, but some may find it overrated. The same goes for Athens, especially since it's the capital.

If you're keen on avoiding crowds, consider Saronic Islands or Lemnos. Read our latest guide on Eloping in Greece to learn more about these wedding destinations.
How much does it cost to elope in Greece?
At the very least, you need about 300 USD to process your marriage certificate if you want a civil wedding. Of course, ensure you allot a budget for transportation, accommodations, and other travel incidentals.

Some resorts offer elopement wedding packages for as low as 800 USD. The rates increase as you demand more— be it in terms of decors, entertainment, food and beverage, and other services.

Find more out about prices in our Guide on Eloping to Greece.