Dreaming of a tropical getaway?
Why not live like a local beyond the glam of holidays? The magical Hawaii islands are famous for their natural paradise-like beauty. While the Hawaiian archipelago has a plethora of stunning options, there are various factors in play you must consider to experience Hawaii outside the resort life.
Read on, and we will share valuable insights, travel tips, and the unique attractions that make Hawaii an ideal destination for every type of traveler.
Discover how you can soak up its beauty while keeping your wallet happy as we unlock the best-kept secrets of the cheapest island in Hawaii.
How many Hawaiian islands are there?
The Hawaiian archipelago comprises 137 islands with a population of 1.43 million (as of 2020), 8 considered the main islands, while the rest are islets, reefs, or atolls.
Here's a quick look so it's easier to compare and find the cheapest island in Hawaii:
| | | | | |
| --- | --- | --- | --- | --- |
| ISLAND NAME | Oahu | Kauai | Maui | The Big Island |
| ISLAND SIZE | 596.7 sq. mi. | 552.3 sq. mi. | 727.2 sq. mi. | 4,028.0 sq. mi. |
| POPULATION | 1,016,508 | 73,298 | 164,221 | 200,629 |
| MAIN CITY | Honolulu | Lihue | Wailuku | Hilo |
| AIRFARE | $595.00 | $679.75 | $596.50 | $592.25 |
| RENTAL CAR/MONTH | $750 | $960 | $930 | $1,560 |
| AVE. CONDO/APT. RENT/MONTH | $2,397 | $1,631 | $2,600 | $1,950 |
| AVE. COST OF UTILITIES /MONTH | $350 | $399 | $300 | $410 |
| FOOD | $1,590 | $660 | $2,820 | $1,260 |
| TOTAL AVE. COST OF LIVING/MONTH | $5,087 | $3,650 | $6,650 | $5,180 |
*Keep in mind that the digits are on averages. Prices fluctuate all the time.
Is Hawaii cheap to visit?
No, Hawaii is not cheap to visit.
You need to save up quite a lot to visit Hawaii but this will still depend on which island you go to. For example, you need at least $2,625/ week in Oahu, while it rockets up to $3,600 in Maui. Going to Hawaii is no joke but you can substantially cut the cost if you don't mind trading some comfort and leisure.
---
Going on a trip with Kids?
Take a look at these destinations
Key West with Kids
15 Things to do in Taylor Falls with Kids
18 Things to do in Northfield with Kids
25 Easy Hikes in the White Mountains
Cost of Accommodation
Hostels/Hotels
Hawaii is one of the top destinations with the most expensive hotel rates. The average hostel rate is $214/night, while a hotel room costs $427/night on average. It can even cost as much as $6,000/night in luxury hotels during peak season. Of all the main islands, Maui hugs the most expensive hotel rates at $632/night, while Kauai is at $475/night and The Big Island at $420/night. Staying in hotels will crush your search for the cheapest island in Hawaii.
All-Inclusive Resorts
If you don't want to worry about anything else once you land on your chosen cheapest island in Hawaii, packages from all-inclusive resorts are your best option. The average price is a thousand bucks per night for a couple, with a minimum stay of four nights. Here are some of the best All-Inclusive resorts you can check out per island.
Prices fluctuate constantly, so please check their website for updated rates.
Camping
Imagine waking up just a few steps from the beach with the sun rising on the horizon or in the middle of a thick forest at the heart of nature. Yes, you camp during your stay. It makes any of the islands the cheapest island in Hawaii since you're saving tons of money on accommodations.
You're good to go if you have a permit and follow the rules. The pass costs between $10-$200 depending on how long you plan to camp, and you need to get it at least a couple of weeks in advance. Apply for an Oahu permit here, a Big Island (Island of Hawaii) permit, and for Maui.
Remember, although sleeping under the stars by the beach is magical, it's not allowed. The campgrounds are near the beaches but not right on the beach, so your next best option is to lay out a mat, stay at the beach as long as you want, and head back to your tent.
Here are some of the campsites you can check out to save on your budget:
Oahu

Kauai

Maui
The Big Island
Bellows Field Beach Park

Hauula Beach Park

Hunananiho (Sherwoods)

Kaiaka Bay Beach Park

Kalaeloa Beach Park

Kalanianaole Beach Park

Kea'au Beach Park

Kahua Nui-Makai (Ho'omaluhia)
Kōkeʻe State Park

Polihale State Park

Nāpali Coast State Wilderness Park

Kumu Camp

YMCA Camp Naue

Camp Sloggett
Papalaua Wayside Park

One Ali'i Park

Papohaku Park

Hosmer Grove

Kipahulu

Haleakala National Park

Paliku

Holua

Kapalaoa

Wai'anapanapa

Polipoli State Park

Camp Keanae
Laupahoehoe

Milolii

Mahukona

Punalu'u

Spencer

Whittington Beach Park

Camp Ho'okena

Arnott's Lodging and Adventures

Halapē

Cost of Dining Out
Dining out and eating at restaurants will cost more than cooking in your apartment. But to give you an idea, the average food budget you can stretch during your stay is around $77. Here is some food/drink price range you can expect while in Hawaii:
Breakfast/Lunch/Brunch: $10-$20
Dinner: $15-$30
Gourmet: $30-$60
Alcohol: $5-$10
Entertainment
You can allocate around $38 for entertainment. It includes tickets to various attractions and local sights.
Cost of Flights
Remember that airfare prices are steep. What we give are averages for each. Plus, it will also depend on where you're departing from and the airline you choose. Do your research to stay updated with current airfares.
To give you an idea, here's the cost of a round-trip flight from some of the main cities in the U.S.:
| | | | | |
| --- | --- | --- | --- | --- |
| PLACE | Oahu | Maui | Kauai | The Big Island |
| New York | $828 | $799 | $248 | $860 |
| Los Angeles | $375 | $417 | $580 | $425 |
| Atlanta | $929 | $1,165 | $575 | $823 |
| Boston | $793 | $722 | $518 | $761 |
| Washington D.C. | $889 | $756 | $1328 | $785 |
---
Traveling with Family?
Read our Family Travel Tips

25 Family Travel Tips to Slow Down
The Lightweight Family Vacation Packing List
5 Best Travel Baby Monitors – Review
Transportation
Let's look at various modes of transportation around Hawaii and how much they generally cost.
Getting around Oahu
Public bus, also known as The Bus, has plenty of routes throughout the island of Oahu. If you're planning for an extended stay, it's best to get the $70 monthly pass, but each hop costs $2.75, while the ADA-friendly TheHandi-Van offers easy travel for people with disabilities for only a couple of bucks.
Want to stay active? How about renting a bike from Biki Bikes?! It's cheap with daily rentals from $4.50 to $15, or save more with the monthly subscription from $25 to $30.
Car rentals and ridesharing are also available. The cost will depend on the model and duration of the car rental, while the destination is the basis for the ridesharing expenses.
Getting around Maui
Wandering around Maui is pretty cheap with the fixed rate of $2/ride, or get the $4 unlimited day pass or the $45 monthly pass for The Maui Bus. It's also the best mode of transportation if you're planning to explore the island's west coast. There's also the Kaanapali Trolley. It covers short distances between resorts and other establishments in Maui. It's operational from 10 AM until 10 PM.
Biking in Maui isn't the best bet since the distances from one attraction to the next can be taxing. But if you're up for the challenge, we recommend West Maui Cycles and Boss Frog's. You can choose from traditional models to modern e-bikes and mopeds. But of course, these electric bikes will do well on leveled roads but are less reliable once you start climbing steep elevations. These rentals range from $75-$250 per week.
Ridesharing is also available from Holoholo, and if you fancy a golf cart, you can get one for a whooping $500+/week.
Getting around Kauai
Although the waiting time is lengthy, the Kauai Bus is still the cheapest way to get around the island: $5 for an all-day pass, $2/ride, and $50 for a monthly pass. The Aloha Shuttle is another practical option for those who don't like making lots of stops for $20/day.
You can use Lyft and Uber in Poipu, Lihue, Kapaa, and Hanalei. Taxis are no-go. They will drill a hole in your wallet. Bike rentals range from $15 to $200, depending on your rent duration and bike model. It's an excellent mode of transportation if you want to scour the beaches. You can check out Hele on Kauai for rates.
If you want to rent a scooter, The average daily rate is around a hundred bucks. But if you lease it for a week or month, you'll get many discounts. There are plenty of rentals in Kauai, so shop and haggle if you can. Scooters are ideal for couples and solo travelers since you can take them anywhere, park even in small spaces, and just hop back on without waiting, unlike you would with public transportation.
Getting around The Big Island
The main bus line around Hilo is the Hele-On. Even better, it's for free! However, stay updated if the government will return it to its $2/ride fare by the end of the year or early 2024. You might be charged extra if you carry many big bags.
Here's the kicker, there are minimal routes, and most buses are only available early morning and late afternoon, so you can't rely on it as your mode of exploring The Big Island. An alternative is a taxi-sharing option from Helo-On, which costs $6 (1 coupon) for the first four miles. To save more, you can get a booklet with 15 vouchers for $30. Uber and Lyft are also typical.
Now, Hilo is a central hub for tourism. And with that said, it's easy to find tours you can join for reasonable prices. You pay once, and everything's sorted out: transportation and the stops/attractions. On the other hand, everything's fixed and scheduled. You can only stay in a place for the allotted time.
From One Island to Another
Two ways to transfer from one island to another are by air or water. If you're in Oahu, Hawaiian Airlines, Mokulele Airlines, and Southwest Airlines can take you to any neighboring major islands in less than an hour. You can also opt for a private flight with Makani Kai Air or Lanai Air (specifically to Lanai).
Taking a ferry from Maui to Lanai costs around $30, and the journey takes an hour. However, you need to time your trip accordingly since there are only a handful of daily trips.
Now, if you're short on time and budget and still worrying about the cheapest island in Hawaii, we recommend just taking a cruise. At least you don't have to worry about where to go, eat and stay. It's all paid for. If interested, check out Disney Cruise Line and Norwegian Cruise Line offers.
Cheapest Islands to Visit in Hawaii
Oahu
The most populous Hawaiian island with over a million people, Oahu is a treasure trove of pristine beaches, with the Waikiki beach at the forefront, a surfing paradise visited by enthusiasts worldwide. It's also the most culturally diverse of the main islands.
Oahu is home to iconic landmarks like Diamond Head, a volcanic crater offering panoramic views of Honolulu, and Pearl Harbor, a historic site commemorating the events of World War II. There's a wide range of outdoor activities, from hiking to water sports. Explore lush rainforests, snorkeling in Hanauma Bay's protected marine reserve, or walk to picturesque waterfalls.
The capital Honolulu also offers modern amenities where you can enjoy world-class dining, shopping, and entertainment in the heart of Oahu. The vibrant culture is alive with the Iolani Palace, the only royal palace in the United States, and the Bishop Museum, which showcases the island's cultural and natural history.
If you want to save money in Oahu, head to Waianae on the east coast. And since it doesn't get as much attention as neighboring towns, there is plenty of unspoiled beauty, like in the Waianae Mountain Range. The cost of living and housing is also relatively more affordable.
Kauai
With over 70,000 citizens, Kauai boasts breathtaking natural beauty and unspoiled landscapes. It is often called the "Garden Isle" due to its lush tropical rainforests, cascading waterfalls, and stunning coastal cliffs.
It's home to Waimea Canyon, often called the "Grand Canyon of the Pacific," and the Na Pali Coast, a rugged coastline renowned for its dramatic cliffs and hiking trails. The island's secluded beaches, vibrant marine life, and diverse ecosystems make it a haven for outdoor enthusiasts and nature lovers. Kauai's charm lies in its tranquility and pristine environment, offering visitors a unique and unforgettable experience.
Hiking the Queen's Bath is also an exciting activity where you must bypass the lava shelf, and kayaking the Hanalei Bay during sunset is also a treat. There's also no missing out on the majestic beauty of Opaeka's Falls and Wailua Falls. And if you still can't make your mind up, take a surfing lesson at one of the world's best surfing spots- Waikiki!
Make the most of your hard-earned money and look for a place on the East Shore. There are plenty of cheap accommodations to choose from without all the tourist crowd spoiling nature's beauty and serenity.
Maui
Ka'anapali, Wailea, and Kapalua- the choice is all. Maui and its crystal-clear waters are snorkeling lovers and surfers. Home to more than 160,000 people, it's an island of balanced nature and modernity. The Haleakala National Park hosts the island's peak at 10,023 ft., a haven for hikers and bikers seeking Maui's breathtaking landscapes.
There's also the Road to Hana, a scenic drive that winds along the northeastern coast of Maui, with scenic stops such as the Twin Falls and the black sand beach at Waianapanapa State Park. Love the underwater world? Humpback whales migrate to the warm waters of Maui from December to May. History is also overflowing in Maui with traditional luaus, hula performances, and visits to historic sites like Lahaina.
Now, Maui generally offers the most expensive stay in Hawaii. Its capital Wailuku has plenty of cheap options due to competition. It's also very touristy. If you prefer a peaceful and crowd-free experience, head to Upcountry, where the Haleakala volcano resides.
The Big Island
The biggest of the main islands (hence the name), The Big Island- Hawaii is home to more than 200,000 people. And if you've never seen an active volcano, this is your chance. Visitors can witness ongoing volcanic activity, such as lava flows and eruptions at Kilauea, one of the most active volcanoes in the world. Want to see beaches with different sand colors? Papakolea has green, while Panaluu has black.
Diving is also a favorite at The Big Island, with giant manta rays swimming around at night! Farms and biodiversity gardens are everywhere. The beauty of Umauma Falls and Rainbow Falls will captivate you.
Exploring the Waipio Valley and its stunning views, with cliffs, luscious fields, and forests, is a must for nature lovers. And if you want to learn about the island's culture, head to the Pu'uhonua O Honaunau National Historical Park for a journey to the past.
With all the tourists mainly flooding the island's east side, Hilo is the cheapest place to live. And since it's the capital, you have everything you need within reach.
---
Considering Eloping?
Read about these beautiful destinations
Elope in Greece
Elope in Mexico
Elope in Iceland
Cheapest Islands to Fly to in Hawaii
Oahu is the cheapest island to fly to among the main islands. But remember, the airfare will still depend on where you're from and how you time your booking. Don't book your flight too soon or too late. It's considered that the best time is forty to fifty days before departure. Shoulder seasons, particularly January/February, offer some of the cheapest flights. And most importantly, keep your eyes peeled for promos and sales.
Cheapest Way to Island Hop in Hawaii
The most practical way to go island hopping while in Hawaii is to sign up for a tour as a joiner. This way, not only do you experience the most quickly, but everything is already laid out, from transportation to the itinerary. Bonus, you meet lots of new people! They generally cost at least $50 up to $200 for a day tour.
The best option for traveling families is by hopping aboard a cruise ship. Roberts Hawaii offers a Deluxe Snorkel and Dolphin Watch for $158, with the trip lasting roughly four and a half hours, covering Dolphin Cove, Fantasy Reef, Turtle Haven, and more. Another package is the Body Glove Historical Dinner Cruise for 3 hours with entertainment about Hawaii's rich history and culture.
Is Hawaii cheap to live in?
No, it's definitely not cheap. You'll need to earn at least $200,000 annually to live comfortably in Hawaii, and the cost of living is one of the most expensive in the country, 88% higher than the national average. It is even more challenging to keep up with all the costs if you're moving as a family. The expenses rise exponentially.
Salary
Salary will, of course, depend on the job position. But here we will give you an insight into how much locals earn in various job positions to give you an idea of how life goes in the area.
Oahu Salary
With a mean rate of $29/ hr. and a total salary of $61,003/year, Honolulu's pay grade slides the scale from at least $28,486 to $401,812 per year. Some of the highest-paying careers are mainly in the healthcare industry, such as hematologist, cardiologist, and anesthesiologist, while the most skilled workers earn up to $66,288 per year. Some jobs earning $40k+/year include chef, licensed massage therapist, high-end nanny, and federal firefighter, while janitorial services earn a minimum of $28,486.
Kauai Salary
With an average hourly rate lower than Oahu at $24/hour, working in Kauai will reap you $49,566/year on average, with one of the highest paying jobs (nurse) offering $75,776/year. Kauai only has a few opportunities if you want to advance your career. However, Kauai's lower cost of living somehow reflects the low salary rate. If you want to earn more while on this island, try finding positions in San Mateo, Daly City, and Berkeley, where rates can reach up to almost $30/hour.
Maui Salary
Probably with the lowest average rate among the main islands, Maui pays $18/ hr—or $37,248/year. Most of the residents in the area typically earn between $32,700-$43,600 annually.
Top earners make $70K+/year, such as in managerial positions.
Salary on The Big Island
The Big Island is the best place for work, with an average hourly rate of $31.26 or $65,021 per year. Blue-collar jobs such as technicians and security guards payscale are between $13 to $30 per hour.
Rent
Renting your place is still a wise move for extended stays. If you decide to rent your place for an entire month, Honolulu offers a studio type with an average size of 529 sq. ft. This price fluctuates too depending on which neighborhood you're in, with the most expensive as much as $3270 or as low as $1213. If you want to save without losing the fun, check out rentals at Waikiki, Kakaako, and Makiki.
Now, in Maui, the median is $1,631/month. You can secure a studio-type condo for as low as $1,255; a 3-bedroom apartment costs roughly $3,621 if you're with a family. On the other hand, Maui averagely costs $2,600/month for a studio condo and can cost up to $4,174 in expensive neighborhoods such as Makena and Wailea. Lastly, the average rent/month for a studio apartment in The Big Island is $1,950.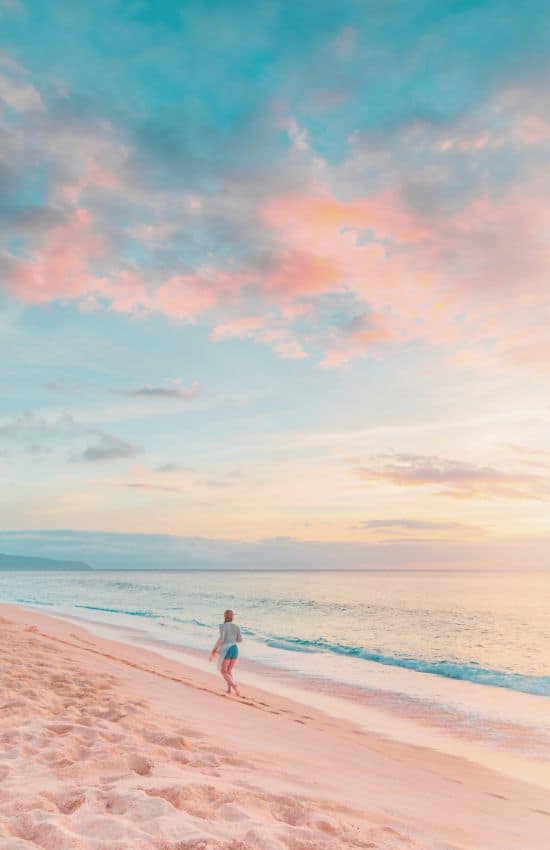 Utility Expenses
Okay, so you decided on an extended stay, but you are still unsure which is the cheapest island in Hawaii. The utility rates are pretty much the same across Hawaii but more expensive than the national average.
We will crack them down to help you make your calculations.
Electric
Almost double the national average, Hawaii charges 27.5 cents/KWh. It's why most households and businesses added solar and photovoltaic sources. Ask your landlord about the average electric consumption of the apartment you plan to rent and if it has a meter of its own (it better have one!).
Gas/Propane
Most homes still depend on liquid petroleum gas for their stoves and other amenities where heating is needed, such as the pool. Most companies will deliver tanks to your place for $6.32/gallon.
Water
For $4.55/thousand gallons, the Department of Water Supply delivers water to your place. Some places are serviced by private suppliers (from the well), and the cost will vary per supplier.
Cable/Phone Credit/Internet
Again, this will depend on the service provider, but they cost the same as the rest of the U.S. Whether you're using AT&T, Sprint, or Spectrum, the same rates apply just like everywhere else in the country. And in fairness, the signal in the Hawaiian archipelago is pretty strong, even in its most remote areas.
Food
Each island has its food pricing. Sometimes, even within the island, it's baffling how prices can fluctuate between stores.
Here's the average of some essential goods per island.
| | | | | |
| --- | --- | --- | --- | --- |
| ITEM (1 lb.) / PLACE | Oahu | Kauai | Maui | The Big Island |
| White Rice | $3.12 | $3.99 | $5.86 | $1.89 |
| Chicken Fillet | $8.25 | $14.14 | $12 | $4.24 |
| White Bread | $5.36 | $3.49 | $4.85 | $4.89 |
| Cheese | $8.10 | $7.49 | $7.78 | $5.89 |
| Beef | $8.33 | $5.24 | $5.79 | $7.24 |
| Apples | $3.34 | $2.50 | $3.70 | $2.24 |
| Tomatoes | $3.07 | $3.33 | $2.26 | $4.19 |
| Potatoes | $2.33 | $2.99 | $2.00 | $1.52 |
| Onion | $2.29 | $1.33 | $2.34 | $2.40 |
Your monthly grocery expenses will depend on which city you are in. As you can see above, one item might be cheaper in one city than another, but that other city has more affordable products as well. For example, white rice is cheaper on The Big Island at $1.89/lb., while it costs $3.12 in Oahu. But in contrast, tomatoes are cheaper in Oahu at $3.07/lb. than in TBI at $4.19/lb.
Local Tip: Look for a Don Quijte for the lowest prices.
---
Traveling with Family?
Read our Family Travel Tips
80+ Road Trip Snacks for Kids
Things to do on a car trip for a teenager
The Lightweight Family Beach Vacation Packing List
Cost of Living in Hawaii
Living in Hawaii is expensive. Even locals need to juggle 2 or 3 jobs to make ends meet.
Here's the monthly estimated total cost of living, including rent, utilities, transport, and food:
| | | | | |
| --- | --- | --- | --- | --- |
| Place | Oahu | Kauai | Maui | The Big Island |
| TOTAL AVE. COST OF LIVING/MONTH | $5,087 | $3,650 | $6,650 | $5,180 |
Owning a Car
Just like most things in Hawaii, owning a car is expensive. The no-BS estimate, you'll need to bleed out around $8,100 per year to have one.
That's roughly $675 monthly!
For example, to purchase a Tacoma 2015 simple model, you must fork out $566/month or $6,800/year.
Now, we still need to include gas expenses and other maintenance costs, so you need another $200/month.
Another thing to consider is the tax. Unlike most places, the weight of your vehicle will dictate the amount of tax you'll need to pay. So even if you buy an old model with monstrous weight, the tariffs will rip your pockets more than someone who purchased a smaller, more expensive car.
If you decide to purchase a car in Hawaii, here are some of the essential documents you need to prepare:
Ask the dealer for the latest safety information check.
The Bill of Sale
Double-check the information in the title, such as date, signature, and name.
Ask for the registration stopper so the dealer has zero chance of renewing its registration.
If you have doubts, you can reach out to the following organizations for inquiries:
Motor Vehicle Registration (Honolulu)
Vehicle Registration and Licensing Division (Hawaii County)
Division of Motor Vehicle and Licensing (Maui)
Drivers Licensing and Motor Vehicles (Kauai)
And to give you an idea of possible costs on top of buying the car itself, here are some fees you might encounter:
| | |
| --- | --- |
| Vehicle Weight | Tax/lb. |
| Passenger Vehicles | 1.25 cents |
| Passenger Trucks | 1.25 cents |
| >4,000 lbs. | 1.75 cents |
| 4,001-7,000 lbs. | 2.00 cents |
| 7,001-10,000 lbs. | 2.25 cents |
| 10,001< | $300 fixed fee |
| Trucks with 6,500+ lbs. | 2.50 cents |
| Misc. (Vehicle Disposal Fee, Emblem Renewal, Beautification, Emblem Replacement, Transfer, Count Fee, State Fee, Duplicate Title, Duplicate Registration, Plate Replacement) | $83 |
Vehicle Transport
Shipping your car from the mainland to Hawaii would still be more practical if you're solid on staying for good. You can expect fees ranging from $1,500 to $3,500 depending on your vehicle's size, the total distance traveled, and the fuel price. The price for return shipping also varies. You must do this at least a couple of weeks before you arrive in Hawaii. And from the main islands, Oahu costs the least to transport your vehicle.
Here's a quick estimated cost for some of the main cities in the U.S.:
| | | | | |
| --- | --- | --- | --- | --- |
| Location | To Honolulu | To Hilo | From Honolulu | From Hilo |
| Sacramento | $1,600 | $1,900 | $1,150 | $1,450 |
| Atlanta | $2,350 | $2,600 | $1,850 | $2,150 |
| Denver | $1,995 | $2,250 | $1,495 | $1,795 |
| Miami | $2,350 | $2,600 | $1,850 | $2,150 |
| Phoenix | $1,750 | $2,000 | $1,250 | $1,550 |
Remember that these estimates can be affected by fluctuating factors and apply to small sedans primarily. Still, you can expect to spend less if you ship your car instead of buying one. The rest of the registration process is the same and must happen at least a month before arrival.
Before you ship your vehicle, ensure it's empty of any personal belongings, any car accessories and the tank is empty. It should be cleaned thoroughly and in good working condition; otherwise, it might be denied entry.
Car Rental
On the other hand, car rentals are also available. You can cruise in a car for around $25/day in Oahu. But for a month, you'll have to pay $750 or $9,000/year. In Kauai, a standard model costs $32/day or $960/month, $11,520/year. In Maui, it's $31/day, $930/month, and $11,160/year. The Big Island is the most expensive, with an average of $52/day, $1,560/month, or $18,720/year. And you have to pay the contract for at least five years.
Renting a car is a more flexible option, especially if you only plan to stay for a few months. Again, this is the average rental price and varies per model.
Cheapest Island to Live on in Hawaii
Overall, Kauai is the cheapest island in Hawaii for a long-term stay. At under $4,000, you can live comfortably with all the necessities of modern-day living.
If you skip renting and decide to buy a home, it's a different story. You'll need to fork out way more money, but it's the most practical option in the long run (we're talking about decades). Besides, these properties only increase in value over time. So if you decide to move again, you won't lose that much. You might even catch some net profit.
Cheapest Island in Hawaii to Buy a House
The Big Island is where you can get more forgiving house prices than the rest. The average cost is $350,000. However, this doesn't include the closing fees, with a mean of 1.44%. You can secure yours if you earn at least $90,000 to sustain all the expenses. The good news? The state property tax is only 0.27%, making it the lowest in the country. You also need extra for any repairs and furniture that needs replacement.
| | | | | |
| --- | --- | --- | --- | --- |
| Place | Oahu | Kauai | Maui | The Big Island |
| Ave. Price | $678,200 | $570,700 | $633,500 | $350,00 |
| Closing Fee | 1.02% | 1.11% | 1.06% | 1.44% |
Your credit score must also be good to qualify as a homeowner. And you need to have your down payment at hand. It could range from 5-20%, depending on your negotiation.
The cheapest island in Hawaii is not just about saving money; it's about embarking on a journey of authentic experiences, immersing yourself in the local lifestyle, and enjoying a new lifestyle.
Whether basking on secluded beaches, exploring lush trails, or indulging in traditional Hawaiian cuisine, this island delivers a magical escape.
So, why wait?
Start planning your tropical adventure to the cheapest island in Hawaii and discover a world of natural wonders, captivating traditions, and unmatched beauty. Uncover the hidden gem that offers affordability without compromising on the splendor that defines the Aloha State.
Pack your bags, book your tickets, and get ready to uncover the secrets of the cheapest island in Hawaii.
FAQs
What is the cheapest island in Hawaii to travel to?
Oahu is the cheapest island in Hawaii for vacation. There is plenty of competition, so hotel prices vary a lot. It's also the busiest with all the activities, from nature trips and historical sites to lively nightlife and delicious food. 
Read our in-depth guide if you want to learn more about the cheapest island in Hawaii to visit.
What is the cheapest island in Hawaii to live on?
The cheapest island in Hawaii to live on long-term is Kauai. Rent and food costs are relatively more affordable than the rest of the main islands and only cost around $3,650/person to live comfortably for a month. 

Read our in-depth guide if you want to learn more about the cheapest island in Hawaii to live on.
What is the cheapest island in Hawaii to buy a house?
If you want to buy a house, The Big Island is the cheapest island in Hawaii to get a property. With only a 1.44% closing fee and a mean cost of $350,00, the rest of the archipelago asks for double the amount on average. 

Find out more about the Cheapest Island in Hawaii to Buy a House in our in-depth guide