Exploring the North Shore Oahu hikes is the perfect pair for its roaring waves, especially the mighty swells of the Banzai Pipeline. And although surfing embraces the spotlight, there are plenty of mountains and valleys at North Shore for hikers of any skill level.
With rich biodiversity and a selection of trails, you can opt for strolls or go hardcore trekking long distances deep in the ravine.
So pack up your gear and prepare for exciting adventures in these North Shore Oahu hikes!
Where is North Shore Oahu?
Oahu is the third largest island in Hawaii. North Shore Oahu is the island's coastal area covering 17 miles and famous for its 11-mile-long beach accommodating surfers and all sorts of thrill seekers. Sitting between Kahuku Point and Ke'ena Point, plenty of adventures hide in this local gem. If you want slow-peeling 30-footers, this is the place for you. On the other hand, North Shore Oahu hikes will also leave you breathless with its beauty for those days you don't want to hit the waters.
Where to begin your North Shore Oahu hike?
It depends on where you're staying. You can begin your North Shore Oahu hikes with the nearest trail to your accommodation.
---
Planning a trip to Hawaii?
Read our Hawaii Destination Guides
Cheapest Island in Hawaii
Cliff Jumping in Oahu
Little Beach Maui – a Nudist Paradise
Hiking Kuliouou Ridge Trail in Oahu Hawaii
Lanikea Turtle Beach – Best times to visit
Best Time to Hike
Generally, you can explore the mountains and valleys of the island throughout the year since the weather is usually sunny and warm, except in the winter season (surf's up!). But for your North Shore Oahu hikes, it's best to come between April, May, September, and October. Rates are also usually lower compared to peak seasons.
If you also want to experience local events, October is your go-to, while May is the best in terms of weather and for your budget.
Easy Hikes in North Shore Oahu
Ka'ena Point Trail
| | |
| --- | --- |
| Length | 7 Miles, Out and Back |
| Time | 2.5-5 hours |
| Elevation | 100 feet. |
| Entrance | Free |
| Parking | Parking Permit |
| Open Hours | 6 AM to 7 PM Daily |
With almost no elevation, adding Ka'ena Point Trail to your North Shore Oahu Hikes is one of the easier in the area without ripping away the beautiful view once you reach the top at 100 feet high.
You can enjoy the picturesque views of the coast or go down to the rock formations near the water. Remember that there's little shade along the trail, and some areas are just exposed, so it's best to bring plenty of hydration and use sun protection: shades, caps/hats, and sunscreen. Birdwatching is also a favorite activity, just watching the seals by the shores. (Stay at least 50 feet away from the wildlife and marine animals you might encounter! State policy.). Ka'ena Point Trail is a beginner-friendly non-technical detour you can quickly complete within at least a couple of hours.
Ehukai Pillboxes
Length:
2.3 Miles Out and Back
Time:
1-1.5 Hours
Elevation:
734 feet.
Entrance:
Free
Parking:
Lot in Ehukai Beach Park or along the
Kamehameha Highway
Open Hours:
Open 24 Hours
Yes, pillbox, as in a warfare defense site. The trail has two, hence the name. This hike has two main stop points: First Pillbox and Second Pillbox, with the trailhead at the Sunset Elementary School. The trails start flat, and after roughly a hundred yards in the journey, you'll begin to feel the elevation.
No worries, though! There are steps in the ground and roped tied on trees to give you some assistance during your hike. After around 0.6 miles, you'll reach the first pillbox, where you can see the North Shore coast. There's also a historical bunker that you can check out.
Moving forward, some hikers get confused since there's a private property sign as you follow the trail. Just be careful and carry on; you'll see the path again in no time, and you'll be at the Second Pillbox after a few minutes. Take the view of the entire North Shore, and remember to capture it in snaps. Remember to include the peace sign on the ground on your shots!
---
Going on a trip with Kids?
Take a look at these destinations
Key West with Kids
15 Things to do in Taylor Falls with Kids
18 Things to do in Northfield with Kids
25 Easy Hikes in the White Mountains
Hard Hikes in North Shore Oahu
Poamoho Ridge Trail via Poamoho Hele Loa
| | |
| --- | --- |
| Length: | 6.8 Miles Out and Back |
| Time: | 2-4 Hours |
| Elevation: | 2119 Feet |
| Entrance: | Special Permit |
| Parking: | Near the trailhead |
One of the most exciting and challenging North Shore Oahu hikes, you'll need to rent a 4×4 to get to the trailhead of Poamoho Ridge Trail. And before you can even do that, you must obtain a permit to access the road leading to it (Poamoho Hele Load) at least ten days before your hike. It will save you more than 10 miles of unnecessary walking. But once you have all that sorted, the journey to the top is an experience of a lifetime with the rewards of priceless stunning vistas.
There are sections of the trail that are muddy regardless of the weather. But to make it less complicated, ensure it's not raining during your hike, and wear hiking shoes with excellent grip to avoid slipping.
At the summit, you'll see the Punalu'u and Kahana Valleys, plus the stunning northeastern coast of Oahu. Enjoy the view at the overlook and head for some rest at the nearby cabin just a few steps away. Take your time, take as many stops as needed, and use trekking poles if necessary.
Mokuleia Access Road to Kealia Trail
Length:
10.5 Miles Out and Back
Time:
4-6+ Hours
Elevation:
2723 Feet
Entrance:
Free
Parking:
UNICOM Parking Lot near
Dillingham Airfield
Open Hours:
7 AM until half an hour post sunset
If you enjoy rewarding strenuous North Shore Oahu hikes, check out the Mokuleia Access Road to Kealia Trail journey. The challenge you'll need to harrow here is the distance, not so much the hike itself (although there are some demanding switchbacks on the way).
You can also take a detour to Peacock Flats and Three Corners for an extended trip and additional views. Once you reach the summit, you'll have the Makua Valley and North Shore's beauty from the lookout. You might want another vehicle waiting for you at the trail's end, so heading back to the parking lot is more breezy. Most people just walk and follow the road back with no problems.
It is a long point-to-point journey that might need more than 6 hours to complete. Manage your pace to avoid straining yourself. Pack plenty of water and snacks to keep you fueled while on the trail.
Hauula Loop Trail
Length:
2.7-Mile Loop
Time:
>2 Hours
Elevation:
879 Feet
Entrance:
Free
Parking:
Along Honomu Street or at
the beach park
Open Hours:
24 Hours
You'll find the sign to the trailhead behind Maakua Road. Just follow it and keep it right once you reach a junction. The path is pretty leveled at the beginning, with thick forestation, and the ravine gets even thicker as you move forward. A small stream on the way also looks nice after it rained. However, if it recently rained, you can expect the trail to be muddy.
With the heavy ravine, some hikers find it challenging to find the trail. But after the stream, you will see a fork where the loop begins and ends. The one on the right offers more beautiful views than the path straight ahead. But still, you'll have to cover both sides to complete the hike. It's up to you whether you want to conquer steep trails first and descend with scenic vistas on view or go the other way around. We rather enjoy the views after the climb.
There's enough shade from the trees, so you don't have to worry about the sun. But remember to bring insect repellent to avoid going home with bites. Both sides of the trail meet at the Waipilopoli junction, and from here, you can follow the loop on the right or add another 1.8 miles to your journey following the Waipilopilo trail on the left.
From here, you can savor the view on the lookout. As you descend, there are more openings, so you can still see the mountains from time to time, but for the most part, the ravine is too thick to see anything. Another fun part of this hike is the Cook Forest. Just follow the trail until you're back at the fork at the beginning of your journey.
Kaunala Trail
| | |
| --- | --- |
| Length: | 5.2 Miles Loop |
| Time: | 3-4 Hours |
| Elevation: | 1204 Feet |
| Entrance: | Free |
| Parking: | Road near the Boy Scout Camp |
| Open Hours: | Weekends and Holidays |
We suggest that you use GPS or AllTrails for this hike. The overgrowth in Kaunala Trail tends to lead hikes to various detours, and some even get lost a few times while here. Bring your power bank, wear pants so you don't end up with cuts, and wear hiking shoes with excellent grip. This hike is a muddy and slippery one.
You need to clock in an extra 0.6 miles from the parking before you get to the trailhead. The Kaunala Trail rewards hikers with the Waianae Mountain Range and North Shore vistas. The ground is also packed with roots sticking out, so keep your eyes peeled so you don't trip and hurt yourself. The trail can get pretty technical, especially after rain, and will need at least 3 hours to complete.
Kuaokala Trail
| | |
| --- | --- |
| Length: | 4.7 Miles Out and Back |
| Time: | 2.5-3 Hours |
| Elevation: | 1049 Feet |
| Entrance: | Permit |
| Parking: | East Trail Kuaokala Road |
| Open Hours: | 7 AM until half an hour post sunset |
You will need a permit for a 4×4 to get to the trailhead via Kaena Point Satellite Tracking Station Road. Once you hit the trail, you will see a gate. Stay on the left for a scenic view of the mountains of Makua Valley and the island's North Shore coast. If you want to stay overnight, you can camp at the shelters or find a spot within a 10 feet radius on both sides of the trail. There's consistent elevation gain with some switchbacks, and you have to be careful with your footing, whether mud or dry, with the dirt making it a bit challenging.
Maakua Ridge Trail
| | |
| --- | --- |
| Length: | 3.7 Miles Loop Trail |
| Time: | 2-3 Hours |
| Elevation: | 1030 Feet |
| Entrance: | Free |
| Parking: | Hauula Bend Park |
Neighbors with the Hauula Loop Trail, this 3.7-mile loop trail can be challenging. There are plenty of switchbacks, the path is muddy, you need to cross streams, and you need to duck for the most part since overgrowth covers almost the entire trail except near the end. It is not a place for young kids. We recommend wearing pants so you don't end up with cuts.
After parking, you will pass by a long graffiti wall on your right, with the trailhead on your left. As you continue, you'll reach a fork and need to choose one. Remember that this is also a hunting spot, so stay on the trail. You will see Hauula Beach and the rest of North Shore at the overlook. For most hikers, it takes a little under three hours to complete.
---
Traveling with Family?
Read our Family Travel Tips

25 Family Travel Tips to Slow Down
The Lightweight Family Vacation Packing List
5 Best Travel Baby Monitors – Review
Waterfall Hikes in North Shore Oahu
Kaipapau Falls Trail
| | |
| --- | --- |
| Length: | 8 Miles Out and Back |
| Time: | 5 Hours |
| Elevation: | 3287 Feet |
| Entrance: | Free |
| Parking: | Along Kawaipuna Street |
This 8-mile trek will lead you to the 90-foot-tall Kaipapau Falls. But you have to endure a strenuous journey before it all. The journey is mostly crossing streams and scrambling through boulders. And if you want to simplify it, you can just follow the upstream. Your shoes will be wet, so using a waterproof pair or any with excellent traction is better so you don't stumble and fall.
It's also best to do this hike a few days after it rains. It's a flash flood-prone area, don't try your luck right after a storm. The falls sometimes dry up in summer, so timing is the key.
Once you reach Kaipapau Falls, you can plunge into the pool at its base and enjoy some massage from the cascading waters. Just retrace the trail to head back to the trailhead.
Laie Falls
| | |
| --- | --- |
| Length: | 8 Miles Out and Back |
| Time: | 3-4 Hours |
| Elevation: | 1400 Feet |
| Entrance: | Permit |
| Parking: | Laie Park |
| Opening Hours: | 24 Hours |
You need to obtain the permit ahead of time before you can hike up since it's private property. The trail leads to vistas of the North Shore, and the ridge lacks shading, so bring lots of water if you are hiking with the sun out. Insects are also everywhere, with the dense forestation in the area.
The trail can be super muddy and slippery. And as of this writing, there's a massive landslide towards the end of the hike near the falls. You need to be extra careful so you don't end up in a 50-foot fall. You must also stay aware of your surroundings since wildlife is common in the area. Some encounter wild pigs, while others see wild dogs. But after all the struggles, you can enjoy swimming in the pool at the bottom of Laie Falls. And if you're lucky, you might even have it to yourself since foot traffic here is super low.
---
Considering Eloping?
Read about these beautiful destinations
Elope in Greece
Elope in Mexico
Elope in Iceland
Kid-Friendly Hikes in North Shore Oahu
Waimea Valley Trail
| | |
| --- | --- |
| Length: | 1.9 Miles Out and Back |
| Time: | >1 Hour |
| Elevation: | 272 Feet |
| Entrance: | $25 |
| Parking: | On-Site |
| Open Hours: | 9 AM to 5 PM Daily |
Nestled in botanical gardens, the Waimea Valley Trail is a total treat for nature lovers. You'll enjoy this easy 1.9-mile journey surrounded by plants and trees of different species. The trail is also paved, so it's ADA- and stroller-friendly. There are also tours offering the area's historical significance and how it became one of the first spots where Western civilization started its way into the island.
The hike will lead you to the 45-foot-tall Waimea Falls, where you and your kids can swim to freshen up. Safety is also not a problem, even if the waters can get as deep as 30 feet since life vests are provided and there's a lifeguard on standby. If you don't want to hike, hop aboard the shuttle for $10. But trust us. The hike is what makes the experience even more worthwhile!
Puu O Mahuka Heiau State Monument
| | |
| --- | --- |
| Length: | 2.0 Miles Out and Back |
| Time: | >1 Hour |
| Elevation: | 300 Feet |
| Entrance: | Free |
| Parking: | Along Pupukea Road |
| Open Hours: | 7 AM to 5:30 PM Daily |
Hailed as the biggest heiau (temple) in Oahu, Pu'u O Mahuka Heiau State Monument combines history and nature. Sitting on 4 acres of land with views of Waimea Valley and Waimea Bay on top of the hill, it's a family-friendly journey with primarily flat paths. It's mostly a walk in nature rather than a hike, but the views are scenic. The heiau itself is also a treat to the island's colorful past. You can move forward past the site itself and find the pillbox where you can see better views.
Where to stay close to North Shore Oahu?
Here are some of our recommended stays for your North Shore Oahu hikes:
Reviews by Families for Families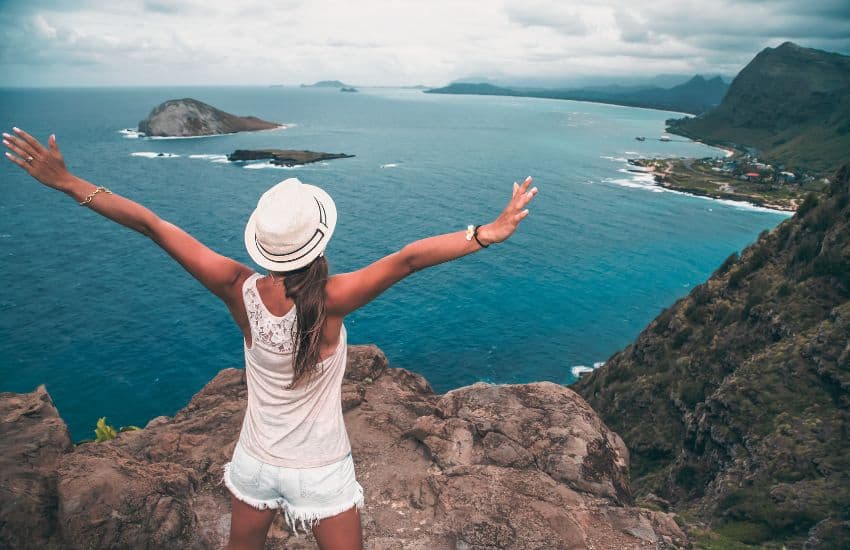 Ehukai Pillbox Hike: "If you want to go hiking on the North Shore Oahu with older kids and need more of a challenge, try Ehukai Pillbox Hike, also known as Sunset Pillbox Trail."
Waimea Falls: "Waimea Falls is one of the best hikes in North Shore Oahu and is great for kids to enjoy. It is three and a half miles, is mostly paved, and is stroller-friendly!"
– Hawaiitravelwithkids.com
Ehukai Pillbox Hike: "It was a fun hike. It does get steep at times, but there are ropes along the way and trees you can hold on to. […] The views are definitely worth it. Recommend for all. We as a family with kids made it to the top with no issues."
– Family Review on Tripadvisor
Ka'ena Point Trail hike: "This is a fun hike especially if you have young kids. Every time we do this hike we see Hawaiian Monk Seals hanging at the end of the route. Also the last couple times we saw some whales. There is not much shade so make sure to wear lots of sunblock and bring water. Beautiful scenery along the route!"
– Family Review on Yelp
Ka'ena Point Trail hike: "Completed this hike with my husband and kids ages 6,6,5. It was an extremely HOT hike. The skill level needed was minimal but the heat makes it difficult. Bring sunscreen. And plenty of water. Great views along the way and at the end."
– Family Review on Yelp
---
Traveling with Family?
Read our Family Travel Tips
80+ Road Trip Snacks for Kids
Things to do on a car trip for a teenager
The Lightweight Family Beach Vacation Packing List
FAQs